Hi ya everyone this is Melissa from Melissa Made!! I'm so super stoked to be sharing with you during Kristy's Birthday Bash Month!  The line-up is unbelievable and I've already learned SO much from the tutorials previously posted!  I'm going to share with you a quick tutorial on how to get those Copics to blend together smoothly.  I always get comments and questions on how I get the transition between my dark areas and light areas of an object – so today I'm going to share with you a very simple and easy technique to achieve just that!
A few things I should add – the broader the stroke the better and I adjust this depending on what I'm coloring.  For hair, I like a thinner stroke so I use less of the brush.  For a larger area like the circle in the video I try and use more of the brush for a thicker stroke line.  I also try to always color when the marker I put down last is still a bit wet.  A little tip I sometimes use when I need a really smooth base coat is to first lay down a coat of colorless blender. I hope you enjoyed this simple tutorial for using your Copics!  The technique though simple is not easy – the more you practice the better you'll get!  I had to add my final project with Mooey too!
Happy Birthday Kristy and thank you so much for letting me share today.  I have one more little treat for you!  Those that leave a comment on this post will have a chance to win a $10 gift certificate from Some Odd Girl!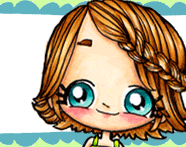 You have thru October 29th to comment and get your entry in and winners will be announced on October 31st!